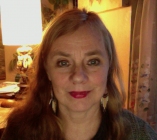 Formerly an abstract painter, Jeanne Wilkinson now incorporates her paintings and drawings into complex and mysterious digital collages and animations.
Some of the paintings now move and morph within their own "movies"—like the painting having a dream of itself.
One extensive series depicts the vision quests and adventures of "The Painted People" (former Barbies, Kens, GI Joes) who travel the earth and beyond.
Using two projectors, she projects on translucent scrims
giving the imagery a mysterious, ever-changing flow and also allowing
people to interact with the imagery. She then photographs these interactions, making another "movie," and adding yet another layer to the experience.
Her work has been screened at Creon Gallery, NYC, in San Francisco and Philadelphia, at Spring in DUMBO, at Gallery 128 in the Lower East Side of Manhattan, and numerous other venues. Her first video, "GreenHeart" from the Colassa series, was screened at BAM Cinema as part of the Brooklyn Arts Council's 2010 "Scene: Brooklyn" Film Festival. Trestle Gallery, part of Brooklyn Art Space, featured her light installation, "The Sun and the Horn" celebrating the 2013 Summer Solstice, and she curated and participated in "Video By Night" at CREON Gallery in Manhattan featuring artists whose video work grew out of their art practice.
She sometimes collaborates with family members, such as her son Andrew Keeley Yonda who is a photographer and musician. The Painted People series, "Wakefield Pond," was a mutual effort, and "Delivery" from this series won the Curators Award at 440 Gallery in Brooklyn. Jennifer Keeley Yonda has also been featured in numerous videos. Wilkinson has also collaborated with her son Aaron Yonda, an online filmmaker/comedian, and his fiancé Courtney Collins, a musician.

Having grown up on the edge of the pristine waters of Lake Superior, Wilkinson is attracted to the colors and dynamic forms of nature. She is also aware of current environmental dilemmas and concerns which are at times reflected in her artwork. In particular, the "Night in the City" series, called "iridescent" by the critic Dan Bischoff, hints at the apocalyptic nature of 21st century life. Her animation "Polar-ised" focuses on the plight of the polar bear, and "Voyage" tracks the surreal journey of a mountain lion from city to wilderness.

All the digital collages and animations on this site are made by layering and merging the artist's photos of nature, cities, dolls, drawings, paintings, etc. using Photoshop, Corel Paint and After Effects. The imagery can be presented in varying ways and in virtually any size: as prints, mounted photographs, projected on a wall, or within digital frames.



Bio:
After high school in Minnesota, Jeanne Wilkinson lived for a short time in San Francisco during the waning of the "Summer of Love." Returning to the Mid-west, she became involved in the pioneering food-coops of the West Bank area in Minneapolis. That experience led to going "back to the land" in the early 1970's where she lived on a rural organic gardening commune in West Central Wisconsin and subsequently spent eight years as a dairy farmer. During that time she married Rick Yonda and had two sons, Aaron and Andrew. After farming, she returned to school at the University of Wisconsin/Stout in Menomonie, WI, got her bachelor's degree in art and art education, and moved to New York City to attend Pratt Institute as a graduate student. She teaches art at Kingsborough Community College (CUNY), and also writes essays and fiction. Her artwork has been shown extensively in the United States and elsewhere.

She is now married to Frank Lind, an artist. Her son Andrew Keeley Yonda is a photographer (Amelia John Photography) and musician, and Aaron Yonda is an internet filmmaker of "Chad Vader" and "Beer and Boardgames" fame.

All artworks and animations on this website copyright Jeanne Wilkinson.